Book Cover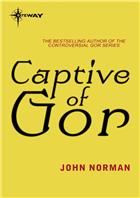 Backcover Text
In this seventh book in the Gorean Series, beautiful and headstrong Elinor Brinton of earth finds herself thrust into the savage world of Counter-Earth, also known as Gor. Brinton must relinquish her earthly position as a beautiful, wealthy and powerful woman when she finds herself a part of the harsh Gorean society. She is powerless as a female pleasure slave in the camp of Targo the slave-merchant. Forced to learn the arts of providing pleasure to any man who buys her, Elinor is determined to escape. Nevertheless, she is sold for a high price, and her master is determined to get his money's worth...



First Chapter
Click here to read the first chapter.
Google Preview
Click the button below to read more of the book, or search within it, using Google Preview.




Book Details
Title: Captive of Gor
Series: Gorean Saga
Volume: 7
Author: John Norman
Originally Published: December 1972



Edition Details
Publisher: Gateway (Orion Publishing Ltd)
Language: English
Length: 145,243 words
Available Formats: E-book



E-book Details
ISBN-10: 0575124091
ISBN-13: 9780575124097
Date published: December 2011 Note: Due to territorial restrictions this edition is not available in the US or Canada.
Price (UK): £2.99 (discounts may be available)

Available at:
Amazon (UK) - Kindle format
Amazon (France) - Kindle format
Amazon (Germany) Kindle format
Amazon (Italy) - Kindle format



Other Books by John Norman
John Norman has, of course, written many other books in addition to this one.

Click here for the previous book in this series.

Click here for the next book in this series.

Click here for more books in this edition.

Click here for the full index.