Book Cover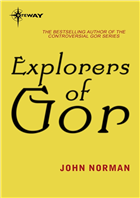 Backcover Text
This enchanting escapade is the most important quest of Tarl Cabot's career. He must retrieve a potent shield ring from a strange explorer. It is imperative that the omnipotent Priest Kings obtain this ring so that the Goreans do not challenge their enormous power. Throughout his expedition, Cabot learns of uncharted territories on Earth's cosmic counterpart. In the dense forests he discovers, Cabot must use his skills to endure the perils that await his arrival. Cabot will encounter Gor's barbarism in full force through enchantingly dangerous beasts, bloodthirsty men, and exotic kingdoms.



First Chapter
Click here to read the first chapter.
Google Preview
Click the button below to read more of the book, or search within it, using Google Preview.




Book Details
Title: Explorers of Gor
Series: Gorean Saga
Volume: 13
Author: John Norman
Originally Published: March 1979



Edition Details
Publisher: Gateway (Orion Publishing Ltd)
Language: English
Length: 182,251 words
Available Formats: E-book



E-book Details
ISBN-10: 0575124164
ISBN-13: 9780575124165
Date published: December 2011 Note: Due to territorial restrictions this edition is not available in the US or Canada.
Price (UK): £2.99 (discounts may be available)

Available at:
Amazon (UK) - Kindle format
Amazon (France) - Kindle format
Amazon (Germany) Kindle format
Amazon (Italy) - Kindle format



Other Books by John Norman
John Norman has, of course, written many other books in addition to this one.

Click here for the previous book in this series.

Click here for the next book in this series.

Click here for more books in this edition.

Click here for the full index.