Book Cover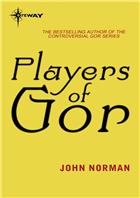 Backcover Text
The games of Gor are diverse, as are their players. There are the games of planetary politics, in which worlds are contested. And those of cities and ubarates, of ponderous cavalries and fleets of lateen-rigged ships. And smaller games, bloody games, played on a square of sand, in which the counters and pieces are edged weapons. And, too, there is Kaissa, common on Gor, played with pieces of wood, on a board of a hundred squares. One might think little would depend on the outcomes of such a benign recreation, but one could be wrong. The major land power in the northern latitudes of known Gor has long been the imperium of mighty Ar. Against her hegemonies on the continent, plans by her major enemies, the maritime ubarates of Cos and Tyros, have been carefully drawn, projectively to involve attack from without and subversion from within. Cabot, once of Earth, is drawn into these intrigues. A foiled plot laid against his life leads him to the port city of Brundisium, where he obtains not only satisfaction, but keys to enciphered documents germane to the machinations of Cos and Tyros. These should be delivered to Ar. But the armada of the maritime ubarates is already entering the collaborating port of Brundisium.



First Chapter
Click here to read the first chapter.
Google Preview
Click the button below to read more of the book, or search within it, using Google Preview.




Book Details
Title: Players of Gor
Series: Gorean Saga
Volume: 20
Author: John Norman
Originally Published: March 1984



Edition Details
Publisher: Gateway (Orion Publishing Ltd)
Language: English
Length: 159,739 words
Available Formats: E-book



E-book Details
ISBN-10: 0575124237
ISBN-13: 9780575124233
Date published: December 2011 Note: Due to territorial restrictions this edition is not available in the US or Canada.
Price (UK): £2.99 (discounts may be available)

Available at:
Amazon (UK) - Kindle format
Amazon (France) - Kindle format
Amazon (Germany) Kindle format
Amazon (Italy) - Kindle format



Other Books by John Norman
John Norman has, of course, written many other books in addition to this one.

Click here for the previous book in this series.

Click here for the next book in this series.

Click here for more books in this edition.

Click here for the full index.