Book Cover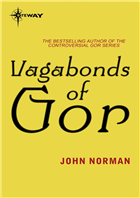 Backcover Text
In the continental war matters proceed apace, to the advantage of Cos. Cabot, and his friend, Marcus, of Ar's Station, who have been spying for Ar in the Cosian encampments, now seek the long-inert forces of Ar, to report acquired intelligence to their commander, Saphronicus, who proves to be of the treasonous party of Ar. Cabot and Marcus are placed under arrest, as spies. Primary forces of Ar, largely inactive in recent months, are now to pursue Cosian forces withdrawing from Ar's Station, through the vast Vosk delta to the sea. The Cosian forces, however, have avoided the delta and the delta campaign is a ruse to decimate the armed might of Ar, to use as a weapon the marshes and swamps of the delta itself, their treacherous, trackless wildernesses and wastes, the quicksand, the insects, the serpents and reptiles, the local populations, to deliver a final decisive blow to what was once the unchallenged splendor and power of Gor's finest infantry. Cabot and Marcus, separated, are sentenced as work prisoners to accompany the forces of Ar as they enter the delta with the expectation of soon overtaking and crushing the withdrawing contingents of the ubarate of Cos. They are thus first-hand witnesses of the tragedies and hazards, the terrors and miseries, of the ill-fated delta campaign. Should they survive the delta both will turn their eyes toward Ar, the seat of treachery. As warriors each will have his business in that place.



First Chapter
Click here to read the first chapter.
Google Preview
Click the button below to read more of the book, or search within it, using Google Preview.




Book Details
Title: Vagabonds of Gor
Series: Gorean Saga
Volume: 24
Author: John Norman
Originally Published: March 1987



Edition Details
Publisher: Gateway (Orion Publishing Ltd)
Language: English
Length: 177,386 words
Available Formats: E-book



E-book Details
ISBN-10: 0575124261
ISBN-13: 9780575124264
Date published: December 2011 Note: Due to territorial restrictions this edition is not available in the US or Canada.
Price (UK): £2.99 (discounts may be available)

Available at:
Amazon (UK) - Kindle format
Amazon (France) - Kindle format
Amazon (Germany) Kindle format
Amazon (Italy) - Kindle format



Other Books by John Norman
John Norman has, of course, written many other books in addition to this one.

Click here for the previous book in this series.

Click here for the next book in this series.

Click here for more books in this edition.

Click here for the full index.