Book Cover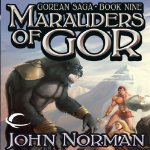 Backcover Text
Former earthman Tarl Cabot has been struggling to free himself from the cruel control of the Priest-Kings of Gor to no avail. As he pits his strength against such a formidable enemy, a terrible beast appears from the mysterious northern lands, bearing a token of the demise of Tarl's once-beloved woman Talena. The missive is a sign of defiance and disrespect from his enemies, meant to humiliate him and force him to challenge them in response. To gird his weapons and set out on a mission of vengeance against those who sent the beasts means Tarl must jeopardize his fortune and position as a wealthy slave merchant.

But he is no longer practical and calm as he was on Earth. He must conform to the social codes of Gor, where the only way one can avenge wounded manhood is to respond with all one's might!



Audio Sample
Click here to listen to a sample of this audiobook.
Book Details
Title: Marauders of Gor
Series: Gorean Saga
Volume: 9
Author: John Norman
Originally Published: February 2013



Edition Details
Narrator: Ralph Lister
Publisher: Audible Frontiers
Language: English
Length: 13 hours and 17 mins
Available Formats: Download





-->
Download Details
Date published: February 2013
Price: $24.95 (discounts may be available)

Available at:
Audible (US) - Various formats



Other Books by John Norman
John Norman has, of course, written many other books in addition to this one.

Click here for the previous book in this series.

Click here for the next book in this series.

Click here for more books in this edition.

Click here for the full index.