Book Cover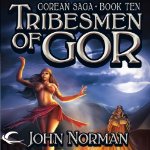 Backcover Text
In this 10th volume of John Norman's Gor series, Tarl Cabot must prove his final loyalty to the harsh and caste-bound planet known as counter-earth. "Surrender Gor," reads a message sent from the Others, a mysterious people from the worlds of steel. Either the proud rulers of Gor submit or be destroyed. Now Tarl Cabot is leaving the decadent city of Port Kar to wander in the wilds of Gor, taking up the sword to defend his rulers and enemies, the Priest-kings. For he knows that the fate of his home planet, Earth, is inextricably tied to the fate of Gor.



Audio Sample
Click here to listen to a sample of this audiobook.
Book Details
Title: Tribesmen of Gor
Series: Gorean Saga
Volume: 10
Author: John Norman
Originally Published: March 2013



Edition Details
Narrator: Ralph Lister
Publisher: Audible Frontiers
Language: English
Length: 19 hours and 30 mins
Available Formats: Download





-->
Download Details
Date published: March 2013
Price: $29.95 (discounts may be available)

Available at:
Audible (US) - Various formats



Other Books by John Norman
John Norman has, of course, written many other books in addition to this one.

Click here for the previous book in this series.

Click here for the next book in this series.

Click here for more books in this edition.

Click here for the full index.