Book Cover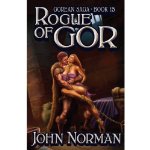 Backcover Text
Learning a valuable lesson in gender roles, Jason Marshall, an Earthman enslaved by the Goreans, must prove himself on the planet Gor. Determined to find the beautiful Earthwoman who was kidnapped with him, Jason is caught in the middle of a devastating war between Ar and the Salerians. Jason must prove himself a real man and survive the war in hopes of finally finding the girl of his dreams.



Audio Sample
Click here to listen to a sample of this audiobook.
Book Details
Title: Rogue of Gor
Series: Gorean Saga
Volume: 15
Author: John Norman
Originally Published: July 2013



Edition Details
Narrator: Jeremy Arthur
Publisher: Audible Frontiers
Language: English
Length: 11 hours and 22 mins
Available Formats: Download





-->
Download Details
Date published: July 2013
Price: $24.95 (discounts may be available)

Available at:
Audible (US) - Various formats



Other Books by John Norman
John Norman has, of course, written many other books in addition to this one.

Click here for the previous book in this series.

Click here for the next book in this series.

Click here for more books in this edition.

Click here for the full index.