Blood Brothers of Gor
by John Norman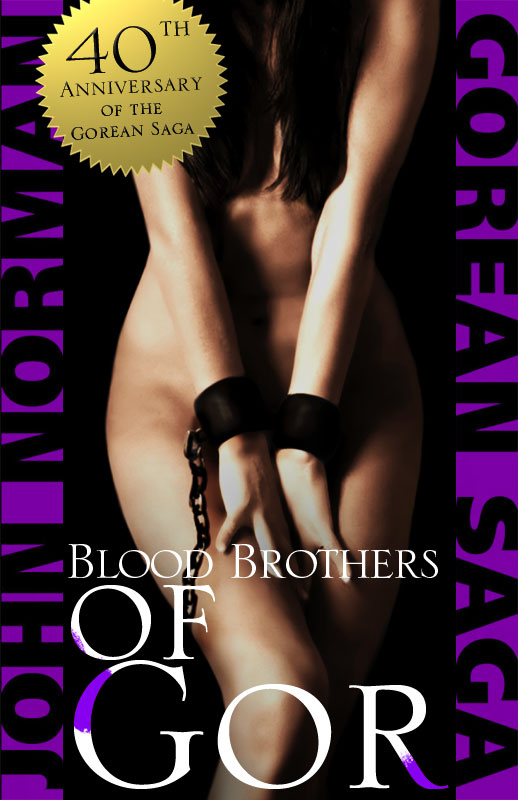 This book is available at:

Online preview:
Read (more about) this book at Google Books.

Revised edition overview:

original book
length (words)
173772
revised book
length (words)
183909
added
(words)
10137
percentage
increace
5.84%

To see a table of revisions to the first 25 volumes and further analysis by Simon of Tabor, founder of this website, and copy editor of the revised edition of this book, click here.

Backcover text:
In this book is concluded the adventure which began in the17th book in the Gorean series, Savages of Gor. Half-Ear, or Zarendargar, a Kur general fallen from favor in the Steel Worlds, now sought by a death squad of his savage compeers, has determined to lure his pursuers into the Barrens, the vast prairies to the east of known Gor, populated by warring tribes known to Goreans as the Red Savages. He has arranged matters in such a way that he will be abetted in his stand against the death squad, and its human allies, by a human ally of his own, his former foe, Tarl Cabot. The ancestors of the Red Savages, as those of many other Goreans, were brought to Gor long ago in Voyages of Acquisition by the Priest-Kings. The Red Savages were settled in an area not unlike that of their former home, a sweeping, almost endless grassland, where they tend to continue their former ways of life, and war. The various tribes have in common a tradition, or myth, called the Memory. And in virtue of this tradition, myth or memory, they entertain an inveterate hostility to lighter-skinned races. Cabot makes his way into this land, and amongst these tribes, in his quest for Zarendargar, he encounters enemies and perils, conflicts and hatreds, and, ultimately, friends. And meets once more the dreadful Zarendargar.

Book details:
Published by: E-Reads, New York
ISBN: 0759213801
Date published: June 30th 2007
Format: Print on Demand (572 pages)
Price: $21.95 (discounts may be available)

Translations of Blood Brothers of Gor (Paperback):

Previous Editions of Blood Brothers of Gor (Paperback):

John Norman's Chronicles of Gor:

John Norman's Telnarian Histories:

Other books by John Norman: