Book Cover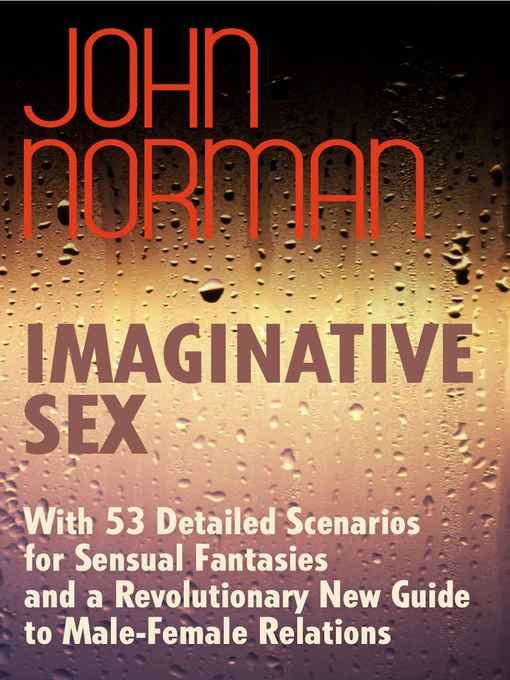 Backcover Text
With 53 Detailed Scenarios for Sensual Fantasies and a Revolutionary New Guide to Male-Female Relations.

In 1974, the author of the controversial and popular Gor novels revealed his vision for an exciting, fulfilling sex life for all.

Imaginative Sex outlines John Norman's philosophy on relations between the sexes. In the first nine chapters, from "Imaginative Sex: The New Sexual Revolution," through "Love, Hunters and Evolution," "Marriage, Sex and Normality," "Sex and the Brain," "Marriage and the Ventilation of Emotions," "Privacy," "Disease," "Requirements for Imaginative Sex," to "Imaginative Techniques," Norman details and develops his theories and ideas about sex in the modern age. In the tenth chapter, "Sensuous Fantasies: Recipes for Pleasure," he presents fifty-three scenarios designed to reintroduce fantasy and intimacy to the bedroom. Examples include: the Aphrodisiac Fantasy, the Rites-of-Submission Fantasy, the Lady Fantasy, the I-Am-His-Slave-Girl Fantasy, the Safari Fantasy, and the Blindfolded-Lovers Fantasy, as well as many other sensuous suggestions, detailed for the enjoyment of all truly adult readers.

Find out what really lies behind the philosophy of Gor and the ways in which role-playing can spice up any love life. The book ends with an epilogue and a set of appendices that cover these important topics: Garments, Ties, Apparel in Fantasy, Notes on How to Buy a Slace Girl, and Notes on Investments, Documents, and Conception.



First Chapter
Click here to read the first chapter.
Google Preview
Click the button below to read more of the book, or search within it, using Google Preview.




Book Details
Title: Imaginative Sex
Author: John Norman
Originally Published: December 1974



Edition Details
Publisher: Open Road Media Sci-Fi & Fantasy
Language: English
Length: 110,468 words
Available Formats: Paperback and E-book



Paperback Details
ISBN-10: 149764481X
ISBN-13: 9781497644816
Date published: May 2014
Pages: 306
Price (US): $14.99 (discounts may be available)

Available at:
Amazon (US)
Amazon (Canada)
Amazon (UK)
Amazon (France)
Amazon (Germany)
Amazon (Italy)



E-book Details
ISBN-10: 1497631661
ISBN-13: 9781497631663
Date published: April 2014
Price (US): $4.99 (discounts may be available)

Available at:
Amazon (US) - Kindle format
Amazon (Canada) - Kindle format
Amazon (UK) - Kindle format
Amazon (France) - Kindle format
Amazon (Germany) Kindle format
Amazon (Italy) - Kindle format



Other Books by John Norman
John Norman has, of course, written many other books in addition to this one.

Click here for more books in this edition.

Click here for the full index.