Book Cover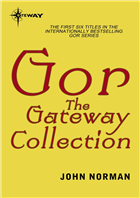 Backcover Text
This collection comprises of the first six titles in John Norman's internationally bestselling Gor series, containing:

Tarnsman of Gor

Outlaw of Gor

Priest-Kings of Gor

Nomads of Gor

Assassin of Gor

Raiders of Gor



First Chapter
Click here to listen to the first chapter.
Google Preview
Click the button below to read more of the book, or search within it, using Google Preview.




Book Details
Title: Gor - The Gateway Collection
Series: Gorean Saga
Volume: 1-6
Author: John Norman
Originally Published: November 2012



Edition Details
Publisher: Gateway (Orion Publishing Ltd)
Language: English
Available Formats: E-book



E-book Details
ISBN-10: 057512248X
ISBN-13: 9780575122482
Date published: November 2012 Note: Due to territorial restrictions this edition is not available in the US or Canada.
Price (UK): £14.99 (discounts may be available)

Available at:
Amazon (UK) - Kindle format
Amazon (France) - Kindle format
Amazon (Germany) Kindle format
Amazon (Italy) - Kindle format



Other Books by John Norman
John Norman has, of course, written many other books in addition to this one.

Click here for more books in this edition.

Click here for the full index.