Book Cover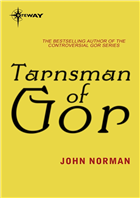 Backcover Text
Tarl Cabot has always believed himself to be a citizen of Earth. He has no inkling that his destiny is far greater than the small planet he has inhabited for the first twenty-odd years of his life. One frosty winter night in the New England woods, he finds himself transported to the planet of Gor, also known as Counter-Earth, where everything is dramatically different from anything he has ever experienced. It emerges that Tarl is to be trained as a Tarnsman, one of the most honored positions in the rigid, caste-bound Gorean society. He is disciplined by the best teachers and warriors that Gor has to offer...but to what end? This is the first installment of John Norman's wildly popular and controversial Gor series, which has sold millions of copies.



First Chapter
Click here to read the first chapter.
Google Preview
Click the button below to read more of the book, or search within it, using Google Preview.




Book Details
Title: Tarnsman of Gor
Series: Gorean Saga
Volume: 1
Author: John Norman
Originally Published: December 1966



Edition Details
Publisher: Gateway (Orion Publishing Ltd)
Language: English
Length: 67,000 words
Available Formats: E-book



E-book Details
ISBN-10: 0575124032
ISBN-13: 9780575124035
Date published: January 2012 Note: Due to territorial restrictions this edition is not available in the US or Canada.
Price (UK): £2.99 (discounts may be available)

Available at:
Amazon (UK) - Kindle format
Amazon (France) - Kindle format
Amazon (Germany) Kindle format
Amazon (Italy) - Kindle format



Other Books by John Norman
John Norman has, of course, written many other books in addition to this one.

Click here for the next book in this series.

Click here for more books in this edition.

Click here for the full index.