Book Cover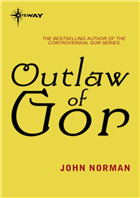 Backcover Text
In this second volume of the Gorean Series, Tarl Cabot finds himself transported back to Counter-Earth from the sedate life he has known as a history professor on Earth. He is glad to be back in his role as a dominant warrior and back in the arms of his true love. Yet, Tarl finds that his name on Gor has been tainted, his city defiled, and all those he loves have been made into outcasts. He is no longer in the position of a proud warrior, but an outlaw for whom the simplest answers must come at a high price. He wonders why the Priest Kings have called him back to Gor, and whether it is only to render him powerless.



First Chapter
Click here to read the first chapter.
Google Preview
Click the button below to read more of the book, or search within it, using Google Preview.




Book Details
Title: Outlaw of Gor
Series: Gorean Saga
Volume: 2
Author: John Norman
Originally Published: December 1967



Edition Details
Publisher: Gateway (Orion Publishing Ltd)
Language: English
Length: 73,551 words
Available Formats: E-book



E-book Details
ISBN-10: 0575124040
ISBN-13: 9780575124042
Date published: December 2011 Note: Due to territorial restrictions this edition is not available in the US or Canada.
Price (UK): £2.99 (discounts may be available)

Available at:
Amazon (UK) - Kindle format
Amazon (France) - Kindle format
Amazon (Germany) Kindle format
Amazon (Italy) - Kindle format



Other Books by John Norman
John Norman has, of course, written many other books in addition to this one.

Click here for the previous book in this series.

Click here for the next book in this series.

Click here for more books in this edition.

Click here for the full index.