Book Cover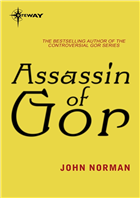 Backcover Text
Welcome to Gor, a parallel Earth, where social norms are exotic and the way of life is brutal. In the fifth book in the Gorean Series, the deadly assassin Kuurus is intent on a bloody mission of vengeance. His adventure takes him from the caste of the pleasure-slaves, which are rigorously trained in the rules and techniques of sexual ecstasy, to the brutal arenas where humans participate in deadly hand-to-hand combat. He witnesses violence, conflict and uncertainty, as the inhabitants of Counter-Earth are forced to confront their destinies...no matter how exalted or debased.



First Chapter
Click here to read the first chapter.
Google Preview
Click the button below to read more of the book, or search within it, using Google Preview.




Book Details
Title: Assassin of Gor
Series: Gorean Saga
Volume: 5
Author: John Norman
Originally Published: December 1970



Edition Details
Publisher: Gateway (Orion Publishing Ltd)
Language: English
Length: 140,892 words
Available Formats: E-book



E-book Details
ISBN-10: 0575124075
ISBN-13: 9780575124073
Date published: December 2011 Note: Due to territorial restrictions this edition is not available in the US or Canada.
Price (UK): £2.99 (discounts may be available)

Available at:
Amazon (UK) - Kindle format
Amazon (France) - Kindle format
Amazon (Germany) Kindle format
Amazon (Italy) - Kindle format



Other Books by John Norman
John Norman has, of course, written many other books in addition to this one.

Click here for the previous book in this series.

Click here for the next book in this series.

Click here for more books in this edition.

Click here for the full index.