Book Cover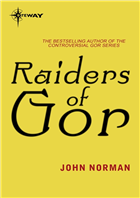 Backcover Text
In this sixth book in the Gorean series, former earthman Tarl Cabot finds himself in the most depraved city that Gor has to offer. Port Kar is a city of robbers, brigands and men without allegiance to any cause or kingdom where the weak are quickly consumed by the strong. However, Tarl Cabot is able to flourish in the cutthroat environment of the city, for he is a powerful Tarnsman, used to having his way. He finds that there is much to learn in Port Kar, where the people are celebrated for their skill of training their voluptuous slaves into utter obedience.



First Chapter
Click here to read the first chapter.
Google Preview
Click the button below to read more of the book, or search within it, using Google Preview.




Book Details
Title: Raiders of Gor
Series: Gorean Saga
Volume: 6
Author: John Norman
Originally Published: December 1971



Edition Details
Publisher: Gateway (Orion Publishing Ltd)
Language: English
Length: 113,125 words
Available Formats: E-book



E-book Details
ISBN-10: 0575124080
ISBN-13: 9780575124080
Date published: December 2011 Note: Due to territorial restrictions this edition is not available in the US or Canada.
Price (UK): £2.99 (discounts may be available)

Available at:
Amazon (UK) - Kindle format
Amazon (France) - Kindle format
Amazon (Germany) Kindle format
Amazon (Italy) - Kindle format



Other Books by John Norman
John Norman has, of course, written many other books in addition to this one.

Click here for the previous book in this series.

Click here for the next book in this series.

Click here for more books in this edition.

Click here for the full index.