Book Cover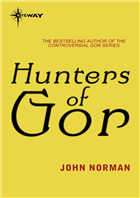 Backcover Text
Former Earthman Tarl Cabot is now a powerful Tarnsman of the brutal and caste-bound planet of Gor, also known as Counter-Earth. He embarks on an adventure in the dangerous and mysterious wilderness of Gor, pitting his warrior's skills against treacherous outlaws, bandits and fighters. Three different women are working to bring change to Tarl's far-from-peaceful life on Gor: Talena, his onetime queen and first love; Elizabeth, his brave fighting partner; and the Amazonian Verna, chief of the fierce and wild panther women. As Tarl journeys through the wilderness, the fates of these three remarkable women will finally be decided.



First Chapter
Click here to read the first chapter.
Google Preview
Click the button below to read more of the book, or search within it, using Google Preview.




Book Details
Title: Hunters of Gor
Series: Gorean Saga
Volume: 8
Author: John Norman
Originally Published: March 1974



Edition Details
Publisher: Gateway (Orion Publishing Ltd)
Language: English
Length: 122,331 words
Available Formats: E-book



E-book Details
ISBN-10: 0575124105
ISBN-13: 9780575124103
Date published: December 2011 Note: Due to territorial restrictions this edition is not available in the US or Canada.
Price (UK): £2.99 (discounts may be available)

Available at:
Amazon (UK) - Kindle format
Amazon (France) - Kindle format
Amazon (Germany) Kindle format
Amazon (Italy) - Kindle format



Other Books by John Norman
John Norman has, of course, written many other books in addition to this one.

Click here for the previous book in this series.

Click here for the next book in this series.

Click here for more books in this edition.

Click here for the full index.