Book Cover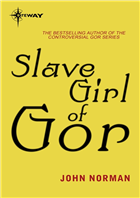 Backcover Text
Taken as a possession, Judy Thornton, an Earth resident, is found meandering in the wilderness of the Earthlike planet of Gor. In keeping with the uncivilized culture of the Goreans, she is trained and used as a slave. What her masters don't know is that Judy is more than just a beautiful chattel. She has the power to obliterate Gor and all that is related to it. Determined to seize control of her, Priest Kings and Kur-Monster enter combat, neglecting the fact that the fate of Gor rests in the hands of the ethereal Judy.



First Chapter
Click here to read the first chapter.
Google Preview
Click the button below to read more of the book, or search within it, using Google Preview.




Book Details
Title: Slave Girl of Gor
Series: Gorean Saga
Volume: 11
Author: John Norman
Originally Published: March 1977



Edition Details
Publisher: Gateway (Orion Publishing Ltd)
Language: English
Length: 211,143 words
Available Formats: E-book



E-book Details
ISBN-10: 0575124148
ISBN-13: 9780575124141
Date published: December 2011 Note: Due to territorial restrictions this edition is not available in the US or Canada.
Price (UK): £2.99 (discounts may be available)

Available at:
Amazon (UK) - Kindle format
Amazon (France) - Kindle format
Amazon (Germany) Kindle format
Amazon (Italy) - Kindle format



Other Books by John Norman
John Norman has, of course, written many other books in addition to this one.

Click here for the previous book in this series.

Click here for the next book in this series.

Click here for more books in this edition.

Click here for the full index.