Book Cover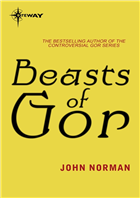 Backcover Text
In this, the twelfth book in the famous Gor series, the fight for survival on the primitive, Earthlike world, Gor, continues with a ferocity that matches the rest of the series. On Gor, there are three different kinds of beings that are labeled beasts: there are the Kurii, a monster alien race that is preparing to invade Gor from space; the Gorean warriors, who fight with viciousness almost primitive in its blood lust, and then there are the slave girls of Gor, lowly beasts for men to do with as they see fit, be it as objects of labor or desire. Now all three come together as the Kurii fight to take over Gor with its first beachhead on the planet's polar ice cap. As all three kinds of beasts struggle together, an incredible adventure is told, one that begins in lands of burning heat and ends up in the bitter cold of the polar north among the savage red hunters of the polar ice pack.



First Chapter
Click here to read the first chapter.
Google Preview
Click the button below to read more of the book, or search within it, using Google Preview.




Book Details
Title: Beasts of Gor
Series: Gorean Saga
Volume: 12
Author: John Norman
Originally Published: March 1978



Edition Details
Publisher: Gateway (Orion Publishing Ltd)
Language: English
Length: 175,827 words
Available Formats: E-book



E-book Details
ISBN-10: 0575124156
ISBN-13: 9780575124158
Date published: December 2011 Note: Due to territorial restrictions this edition is not available in the US or Canada.
Price (UK): £2.99 (discounts may be available)

Available at:
Amazon (UK) - Kindle format
Amazon (France) - Kindle format
Amazon (Germany) Kindle format
Amazon (Italy) - Kindle format



Other Books by John Norman
John Norman has, of course, written many other books in addition to this one.

Click here for the previous book in this series.

Click here for the next book in this series.

Click here for more books in this edition.

Click here for the full index.