Book Cover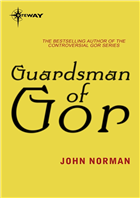 Backcover Text
Thrust into a life full of woeful twists and turns, Jason Marshall has contended with the prehistoric customs and immeasurable power of the Goreans. His struggles on Gor, a planet resembling Earth, included escaping imprisonment, enslavement, and redeeming lost land. Jason has fought to regain control of his life. Having ascended to a position of power in the Gorean army, Jason must prevail in a battle that seems destined to destroy Gor. Jason has a lot riding on his success as a war leader: prestige, wealth, and an Earth girl of goddesslike beauty. Will Jason be able to win the war and avoid a fate worse than death? Will he be able to find the girl who holds his affections? Will he be able to live as a free man on Earth's counterpart and rise to a still higher position of power and respect?



First Chapter
Click here to read the first chapter.
Google Preview
Click the button below to read more of the book, or search within it, using Google Preview.




Book Details
Title: Guardsman of Gor
Series: Gorean Saga
Volume: 16
Author: John Norman
Originally Published: November 1981



Edition Details
Publisher: Gateway (Orion Publishing Ltd)
Language: English
Length: 106,104 words
Available Formats: E-book



E-book Details
ISBN-10: 0575124199
ISBN-13: 9780575124196
Date published: December 2011 Note: Due to territorial restrictions this edition is not available in the US or Canada.
Price (UK): £2.99 (discounts may be available)

Available at:
Amazon (UK) - Kindle format
Amazon (France) - Kindle format
Amazon (Germany) Kindle format
Amazon (Italy) - Kindle format



Other Books by John Norman
John Norman has, of course, written many other books in addition to this one.

Click here for the previous book in this series.

Click here for the next book in this series.

Click here for more books in this edition.

Click here for the full index.