Book Cover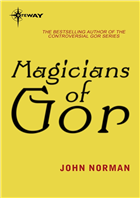 Backcover Text
The party of treason in Ar is triumphant. After the disaster of the delta campaign Ar is substantially defenseless. The forces of Cos, and her allies, are welcomed into the city as liberators. Ar's Station, which held out so valiantly against superior forces in the north, is denounced as traitorous. Veterans of the delta campaign are despised and ridiculed. Patriotism and manhood are denigrated. Ar's walls are being dismantled willingly by her own citizens to the music of flute girls. Lawlessness and propaganda are rampant. Marlenus, the great ubar, who might have organized and led a resistance, who might have rallied the city, is presumed dead, somewhere in the Voltai mountains. The Home Stone of Ar's Station is displayed in Ar as an object of contempt. Marcus, of Ar's Station, wishes to regain the Home Stone of his beloved city, for no city can die whose Home Stone survives. Cabot is concerned with a warrior's vengeance upon sedition and treachery, and, in particular, with meeting one who stands high amongst the conspirators, a beautiful woman now enthroned as ubara, whose name is Talena.



First Chapter
Click here to read the first chapter.
Google Preview
Click the button below to read more of the book, or search within it, using Google Preview.




Book Details
Title: Magicians of Gor
Series: Gorean Saga
Volume: 25
Author: John Norman
Originally Published: June 1988



Edition Details
Publisher: Gateway (Orion Publishing Ltd)
Language: English
Length: 207,834 words
Available Formats: E-book



E-book Details
ISBN-10: 0575124288
ISBN-13: 9780575124288
Date published: December 2011 Note: Due to territorial restrictions this edition is not available in the US or Canada.
Price (UK): £2.99 (discounts may be available)

Available at:
Amazon (UK) - Kindle format
Amazon (France) - Kindle format
Amazon (Germany) Kindle format
Amazon (Italy) - Kindle format



Other Books by John Norman
John Norman has, of course, written many other books in addition to this one.

Click here for the previous book in this series.

Click here for the next book in this series.

Click here for more books in this edition.

Click here for the full index.