Book Cover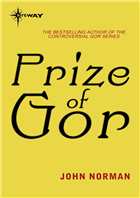 Backcover Text
Ellen is a beautiful young slave girl on the planet Gor. Yet she was not always thus. For nearly sixty years she was a woman of Earth, but life had largely passed her by. Then, following an apparently chance encounter at the opera with a strangely familiar young man, an echo from her past, she finds herself transported from Earth to Gor. Here she discovers the true identity of her kidnapper and his sinister motives. She is given a strange drug that reverses the aging process, turning back time itself, and once again she's the beautiful young woman she remembers from years before, so long ago. Now her adventures really begin. Ellen finds herself a slave in the mighty Gorean city of Ar, where the harsh rule of the occupying forces of Cos and their mercenary allies is being challenged by the mysterious Delta Brigade. Surrounded by intrigue, rumors, plots, and betrayal, her adventures bring her face to face with strange and terrifying beasts, and sickeningly familiar weapons. Men challenge one another to own her. To the victor the spoils, but who will that victor be? Her fate is decided in this latest thrilling installment of John Norman's best selling Gorean Saga.



First Chapter
Click here to read the first chapter.
Google Preview
Click the button below to read more of the book, or search within it, using Google Preview.




Book Details
Title: Prize of Gor
Series: Gorean Saga
Volume: 27
Author: John Norman
Originally Published: November 2008



Edition Details
Publisher: Gateway (Orion Publishing Ltd)
Language: English
Length: 326,925 words
Available Formats: E-book



E-book Details
ISBN-10: 0575124318
ISBN-13: 9780575124318
Date published: December 2011 Note: Due to territorial restrictions this edition is not available in the US or Canada.
Price (UK): £2.99 (discounts may be available)

Available at:
Amazon (UK) - Kindle format
Amazon (France) - Kindle format
Amazon (Germany) Kindle format
Amazon (Italy) - Kindle format



Other Books by John Norman
John Norman has, of course, written many other books in addition to this one.

Click here for the previous book in this series.

Click here for the next book in this series.

Click here for more books in this edition.

Click here for the full index.