Book Cover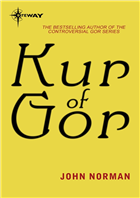 Backcover Text
Some might suppose that the Kurii are monsters, but that is distinctly unfair. They are merely another life form. The Kur is often eight to ten feet in height, if it should straighten its body, and several hundred pounds in weight, and is clawed, fanged, long armed, agile, and swift, often moving on all fours when it wishes to move most rapidly, and that is far faster than a man can run. It does not apologize for its strength, its speed, its formidableness. Nor does it attempt to conceal them. Once, it seems, the Kur race had a planet of their own, but somehow, apparently by their own hands, it was rendered unviable, either destroyed or desolate. So they searched for a new home, and in our solar system found not one but two suitable planets, planets they set their minds to conquering. But these planets, Earth and its sister planet Gor, the Counter-Earth, were not undefended. Four times have the Kur attempted their conquest, only to be beaten back by the mysterious Priest-Kings, rulers of Gor. As the Kurii lurk deep within an asteroid belt, awaiting the chance to seize their prize, their attention is drawn to a human, Tarl Cabot. Cabot was once an agent of Priest-Kings, but is now their prisoner, held captive in a secret prison facility. But what is their interest in Tarl Cabot? Whatever it may be, one thing soon becomes clear - that Tarl Cabot is a man to be taken seriously.



First Chapter
Click here to read the first chapter.
Google Preview
Click the button below to read more of the book, or search within it, using Google Preview.




Book Details
Title: Kur of Gor
Series: Gorean Saga
Volume: 28
Author: John Norman
Originally Published: November 2009



Edition Details
Publisher: Gateway (Orion Publishing Ltd)
Language: English
Length: 242,855 words
Available Formats: E-book



E-book Details
ISBN-10: 0575124326
ISBN-13: 9780575124325
Date published: December 2011 Note: Due to territorial restrictions this edition is not available in the US or Canada.
Price (UK): £2.99 (discounts may be available)

Available at:
Amazon (UK) - Kindle format
Amazon (France) - Kindle format
Amazon (Germany) Kindle format
Amazon (Italy) - Kindle format



Other Books by John Norman
John Norman has, of course, written many other books in addition to this one.

Click here for the previous book in this series.

Click here for the next book in this series.

Click here for more books in this edition.

Click here for the full index.