Book Cover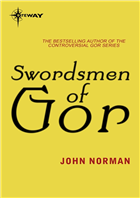 Backcover Text
Fresh from his exploits in the Steel Worlds, home of the Kurii, a savage alien race intent on conquering Gor, Tarl Cabot has been returned to an isolated beach, at coordinates apparently specified by the Priest-Kings, the masters of Gor and the enemy of the Kurii. His only companions are his beautiful new slave Cecily, and Ramar, a ferocious sleen bred in the Steel Worlds to hunt and kill. But why has he been returned to such a remote spot? Did the Priest-Kings wish their former agent to serve them once more? Did the Kurii intend to use Cabot to further their own ends? The truth, as Tarl will learn, is darker, and deeper, than either of these possibilities. In SWORDSMEN OF GOR, the latest book in John Norman's best-selling Gorean saga, follow Tarl as he embarks on a new adventure with the Pani, a strange people with mysterious origins, and learn the dark, sinister truth behind his return to Gor, the Counter-Earth.



First Chapter
Click here to read the first chapter.
Google Preview
Click the button below to read more of the book, or search within it, using Google Preview.




Book Details
Title: Swordsmen of Gor
Series: Gorean Saga
Volume: 29
Author: John Norman
Originally Published: November 2010



Edition Details
Publisher: Gateway (Orion Publishing Ltd)
Language: English
Length: 199,397 words
Available Formats: E-book



E-book Details
ISBN-10: 0575124334
ISBN-13: 9780575124332
Date published: July 2012 Note: Due to territorial restrictions this edition is not available in the US or Canada.
Price (UK): £2.99 (discounts may be available)

Available at:
Amazon (UK) - Kindle format
Amazon (France) - Kindle format
Amazon (Germany) Kindle format
Amazon (Italy) - Kindle format



Other Books by John Norman
John Norman has, of course, written many other books in addition to this one.

Click here for the previous book in this series.

Click here for the next book in this series.

Click here for more books in this edition.

Click here for the full index.