Book Cover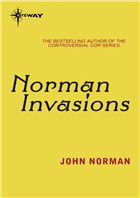 Backcover Text
The creator of Gor delivers a wide-ranging story collection, all previously unpublished, with a handful of directly Gor-related pieces and several more stories that involve Gor-like female slavery and submission. Many of the stories are philosophical monologues which play with existential and phenomenal ideas by discussing their philosophical underpinnings and their relation to the real world as observed with a philosophical mind-set. They are often without dialogue or even characters, merely thoughts, descriptions and speculations. Some could almost be lectures given narrative form. Some stories are SF, some are horror, some have 'mainstream' settings. Among the characters in the various stories are a couple of talking frogs, a couple of independently-thinking computers, a fair number of philosophers and a number of clinical psychologists or psychiatrists, often analyzing or counseling computers or intelligent alien lifeforms.



First Chapter
Click here to read the first chapter.
Google Preview
Click the button below to read more of the book, or search within it, using Google Preview.




Book Details
Title: Norman Invasions
Author: John Norman
Originally Published: August 2009



Edition Details
Publisher: Gateway (Orion Publishing Ltd)
Language: English
Length: 159,619 words
Available Formats: E-book



E-book Details
ISBN-10: 0575124407
ISBN-13: 9780575124400
Date published: December 2011 Note: Due to territorial restrictions this edition is not available in the US or Canada.
Price (UK): £2.99 (discounts may be available)

Available at:
Amazon (UK) - Kindle format
Amazon (France) - Kindle format
Amazon (Germany) Kindle format
Amazon (Italy) - Kindle format



Other Books by John Norman
John Norman has, of course, written many other books in addition to this one.

Click here for more books in this edition.

Click here for the full index.