Book Cover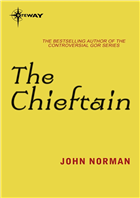 Backcover Text
A science fiction series filled with interplanetary adventure, rebellion and mortal combat by the author the The Gorean Saga. First in the series, The Chieftain. This is the age of the Telnarians. Their vast, corrupt empire spans galaxies, ruling by terror, slavery, and the lash. But, their corruption and brutality could spell their downfall for, on a thousand worlds of swords and science, the savage souls of true men will not be forever chained. A heroic tide is rising - and one warrior is born to lead the barbarian horde. A peasant is sent to the arena, fodder for the carnage - but before the horrified gaze of noble ladies, the warrior named Dog slaughters headsmen, hunters, and beasts to win freedom as a full-fledged gladiator. Then, deep-space rebels attack an Empire ship where Dog performs combat killings for the amusement of the passengers - and the gladiator becomes a rebel. Now, a beautiful officer of the court finds her life depends on the mercy of Dog - the man she ordered put to death!



First Chapter
Click here to read the first chapter.
Google Preview
Click the button below to read more of the book, or search within it, using Google Preview.




Book Details
Title: The Chieftain
Series: Telnarian Histories
Volume: 1
Author: John Norman
Originally Published: September 1991



Edition Details
Publisher: Gateway (Orion Publishing Ltd)
Language: English
Length: 100,255 words
Available Formats: E-book



E-book Details
ISBN-10: 0575124350
ISBN-13: 9780575124356
Date published: December 2011 Note: Due to territorial restrictions this edition is not available in the US or Canada.
Price (UK): £2.99 (discounts may be available)

Available at:
Amazon (UK) - Kindle format
Amazon (France) - Kindle format
Amazon (Germany) Kindle format
Amazon (Italy) - Kindle format



Other Books by John Norman
John Norman has, of course, written many other books in addition to this one.

Click here for the next book in this series.

Click here for more books in this edition.

Click here for the full index.