Book Cover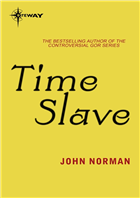 Backcover Text
Dr. Brenda Hamilton - a Ph.D. mathematician from Cal Tech - is beautiful, though she does not know her true beauty. She is a woman, though she does not know her true womanhood. Deep within herself she is sensual, though her senses have been dulled by this modern world. Hamilton has come to Africa to work under the brilliant Danish scientist Herjellsen, a man who speaks of reaching the stars. But what does the ancient stone axe lying on his lab table have to do with space travel? Soon, it becomes clear that Herjellsen's experiment is much larger than Hamilton or Herjellsen or even space travel, itself. It is about correcting a mistake made tens of thousands of years ago in human evolution. Thrown back in time, Hamilton must be shown her place in a tribe known simply as "the Men," Stone Age hunters who take what they desire and know their true manhood. Will Hamilton survive in this savage land? Will her lover, Tree, teach her what it truly means to be a woman? Can the spark between them put mankind back on its proper path toward the stars? In TIME SLAVE, author John Norman brings the same keen philosophical acuity and passion for storytelling that enrich his classic Gor novels. Fans of his work will love the fresh take on his theories and the bold adventure that brings them to life.



First Chapter
Click here to read the first chapter.
Google Preview
Click the button below to read more of the book, or search within it, using Google Preview.




Book Details
Title: Time Slave
Author: John Norman
Originally Published: November 1975



Edition Details
Publisher: Gateway (Orion Publishing Ltd)
Language: English
Length: 147,645 words
Available Formats: E-book



E-book Details
ISBN-10: 0575124393
ISBN-13: 9780575124394
Date published: December 2011 Note: Due to territorial restrictions this edition is not available in the US or Canada.
Price (UK): £2.99 (discounts may be available)

Available at:
Amazon (UK) - Kindle format
Amazon (France) - Kindle format
Amazon (Germany) Kindle format
Amazon (Italy) - Kindle format



Other Books by John Norman
John Norman has, of course, written many other books in addition to this one.

Click here for more books in this edition.

Click here for the full index.