Book Cover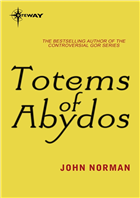 Backcover Text
In a far future, two anthropologists, gross, powerful, dissolute Emilio Rodriguez, and aspiring, young, naive Allan Brenner, who, unbeknownst to himself, carries ancient genes, of a sort no longer welcome on Home World, have been assigned to conduct a study on Abydos, a deeply forested, wilderness planet of little note, whose only evidence of civilization is a single enclave, small, rough, dingy Company Station, a fueling station occasionally utilized by star freighters. Within the forest, some days from Company Station, are the Pons, a group of small, simian-seeming organisms which seems near the crossroads between animal and rational creature, between nature and culture. They would seem to constitute an ideal object of study with respect to the origins of, and foundations of, civilization. How came it about, so to speak, that something once emerged from the lair, or cave, that was different, radically so? What lies at the beginning? The results of the study have already been politically prescribed on Home World, that the Pons are to shed light on humanity, that it is, in its original and unspoiled nature, polite, sweet, kind, deferent, diffident, social, noncompetitive, and innocent. Both Rodriguez and Brenner have a trait in common, however, which may explain why they have been sent, exiled in a sense, to such an out-of-the-way locale. Both seek the truth. They enter the forest.



First Chapter
Click here to read the first chapter.
Google Preview
Click the button below to read more of the book, or search within it, using Google Preview.




Book Details
Title: The Totems of Abydos
Author: John Norman
Originally Published: January 2012



Edition Details
Publisher: Gateway (Orion Publishing Ltd)
Language: English
Length: 170,628 words
Available Formats: E-book



E-book Details
ISBN-10: 0575124415
ISBN-13: 9780575124417
Date published: March 2012 Note: Due to territorial restrictions this edition is not available in the US or Canada.
Price (UK): £2.99 (discounts may be available)

Available at:
Amazon (UK) - Kindle format
Amazon (France) - Kindle format
Amazon (Germany) Kindle format
Amazon (Italy) - Kindle format



Other Books by John Norman
John Norman has, of course, written many other books in addition to this one.

Click here for more books in this edition.

Click here for the full index.