Book Cover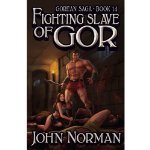 Backcover Text
Emotionally lost, Jason Marshall finds himself thrust into a lengthy struggle to save his beloved from slavery on an Earth-like world called Gor. Kidnapped and helpless, Jason begins a life on Gor as a slave and becomes a prominent warrior. He must battle his way to freedom, if only to liberate his love from the clutches of the alien slave emporium. Will Jason overcome the numerous obstacles he encounters? Will he ever reunite with the girl he loves? Can he survive the trials and tribulations he must endure on Gor?



Audio Sample
Click here to listen to a sample of this audiobook.
Book Details
Title: Fighting Slave of Gor
Series: Gorean Saga
Volume: 14
Author: John Norman
Originally Published: July 2013



Edition Details
Narrator: Jeremy Arthur
Publisher: Audible Frontiers
Language: English
Length: 14 hours and 52 mins
Available Formats: Download





-->
Download Details
Date published: July 2013
Price: $24.95 (discounts may be available)

Available at:
Audible (US) - Various formats



Other Books by John Norman
John Norman has, of course, written many other books in addition to this one.

Click here for the previous book in this series.

Click here for the next book in this series.

Click here for more books in this edition.

Click here for the full index.