Book Cover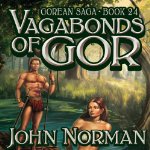 Backcover Text
John Norman's epic Gorean Saga is one of the longest-running and most successful series in the history of fantasy. It is also one of the most controversial. Over the course of more than 30 books produced over a span of six decades, the series has sold millions of copies and built legions of fans unrivaled in their devotion. Rediscover this brilliantly imagined world where men are masters and women live to serve their every desire. In Vagabonds of Gor, book 24 of the Gorean Saga, Cabot, and his friend, Marcus, of Ar's Station, who have been spying for Ar in the Cosian encampments, now seek the long-inert forces of Ar, to report acquired intelligence to their commander, Saphronicus, who proves to be of the treasonous party of Ar. Cabot and Marcus are placed under arrest, as spies. Primary forces of Ar, largely inactive in recent months, are now to pursue Cosian forces withdrawing from Ar's Station, through the vast Vosk delta to the sea. The Cosian forces, however, have avoided the delta and the delta campaign is a ruse to decimate the armed might of Ar, to use as a weapon the marshes and swamps of the delta itself, their treacherous, trackless wildernesses and wastes, the quicksand, the insects, the serpents and reptiles, the local populations, to deliver a final decisive blow to what was once the unchallenged splendor and power of Gor's finest infantry.



Audio Sample
Click here to listen to a sample of this audiobook.
Book Details
Title: Vagabonds of Gor
Series: Gorean Saga
Volume: 24
Author: John Norman
Originally Published: August 2013



Edition Details
Narrator: Ralph Lister
Publisher: Audible Frontiers
Language: English
Length: 19 hours and 36 mins
Available Formats: Download





-->
Download Details
Date published: August 2013
Price: $29.95 (discounts may be available)

Available at:
Audible (US) - Various formats



Other Books by John Norman
John Norman has, of course, written many other books in addition to this one.

Click here for the previous book in this series.

Click here for the next book in this series.

Click here for more books in this edition.

Click here for the full index.